Book Review: The Al-Jilwah For Satanists
|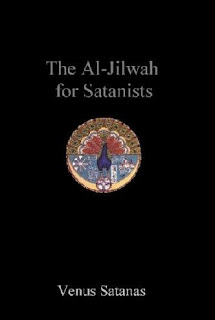 THE AL-JILWAH FOR SATANISTS
The Al-Jilwah is a book of mystery and enlightenment, belonging to the Kurdish tribe of people known as the Yezidi. It is also known as a sacred book for Satanists. This book is for all satanists who want to learn about the origin of the Al-Jilwah, and why it is so popular in Satanism.
WHY THIS BOOK WAS WRITTEN:
This book was written to expose the false history of the Al-Jilwah as a book of the Devil. For many years, the Yazidi have been wandering desert nomads and their sacred book has been labeled as evil by the religious right. Unfortunately this caused many Satanists including LaVey to label the Yazidi as the devil's own, and their sacred Al-Jilwah book became a representation of the Devil's revealed words.
WHO THIS BOOK IS FOR:
This book is for all Satanists who want to explore the historical origins of the Al-Jilwah, a mysterious religious book that has been labeled as 'evil' both by Christians and by Satanists. Don't just accept these stories without knowing the real origins of the religious material that you accept as sacred. This book reveals the truth about the origins of the Al-Jiwah, and it exposes the historical errors in its writing and representation as a Satanic holy book.
PURCHASE THIS BOOK:
The Al-Jilwah for Satanists is available for instant PDF download at lulu.com. Also available as a 26pg. softcover book. Contains complete references and a bibliography.
[–>Get the Al-Jilwah for Satanists at LuLu.com]